I made a sort-of roast dinner recently, centring around a homemade chicken-style seitan roast, stuffed with sage & onion stuffing.
If you're stuck for a main protein in a vegan roast, whether it's a gathering of friends or a christmas dinner, I'd really recommend this.
You'll need gluten flour, which can be hard to find. In the UK, you can order online this from
Flourbin
. Or if you're in London, you can buy it at
Vx
, a vegan boutique in Kings Cross.
Here's the
recipe
.
Mix these dry ingredients with a large bowl, using a fork.
5 heaped tablespoons (tbp) gluten flour
1/4 teaspoon (tsp) garlic powder
1/2 tsp mild curry powder
1/2 tbsp nutritional yeast
2 tsp vegan bouillon powder (or powdered vegetable stock)
Then, combine with the following wet ingredients. Use your hands to mix until it resembles fine breadcrumbs.
1 tbsp extra virgin olive oil
3 tbsp sunflower oil
1 tsp soya sauce
Then add 100-120ml of cold water, using your hands to form a stretchy dough.
Stretch it, and roll as best you can with a rolling pin, into a rectangle. This will be the hardest part as this is a really strong dough that springs back into shape quickly.
Line it with stuffing mix and roll into a tube. Try and squish the ends together to get it to stay closed, adding a little flour and water between the edges. Baste with oil all over the outside. Then wrap the whole roll with kitchen foil and either bake it or steam it. I prefer steaming as it turns out softer. Either way, it will take 30-45 minutes. Just check on it regularly and it's done when it's a light golden colour on the outside and has a firm spring to it.
Leave it to rest on a chopping board for about 5 minutes, then slice and serve with vegetable gravy.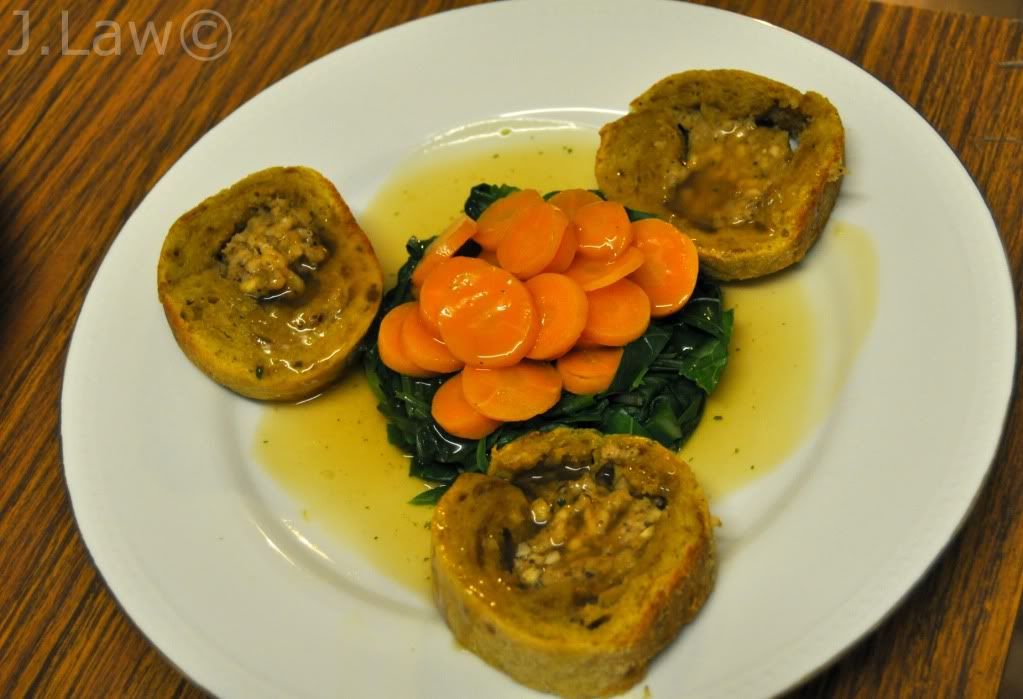 Jen x